Ford Vehicle Recall Department in Michigan City, IN
Find out if your vehicle has an open recall & how you can fix it.
Do you have questions about a recent recall on your vehicle? Here you'll find information about what recalls may be affecting your vehicle, how to make a free repair appointment online at Castle Ford, and get more insight on some of the commonly asked questions about automotive recalls. Castle Ford of Michigan City, Indiana is a trusted dealership for service recalls and repairs. If your ford car, truck, or SUV is ever affected by a recall, our certified Ford technicians at Castle Ford Service Center will take car everything you'll need to get your vehicle running safely.
Do you have to pay for recall repairs?
It is your right as a vehicle owner or lessee to have your recall repaired free of charge. The manufacturer is required by law to completely cover the price of any recall on your vehicle; all it will cost you is the time for the repairs to be made. If you do find that your Ford car, truck, or SUV has an open recall, we would advise you to call and make an appointment at our
Ford Service Center
and
Ford Truck and Commercial Service Center
right away. With cutting-edge equipment and a team of expert advisors and certified technicians; we will handle your recall quickly and accurately while following strict safety standards and guidelines. Visit us at Castle Ford today and we'll have you driving again in no time! Our Ford dealership is located in Michigan City, IN near
Chesterton
, La Porte, 
Valparaiso
, Portage, South Haven, and
Hammond
.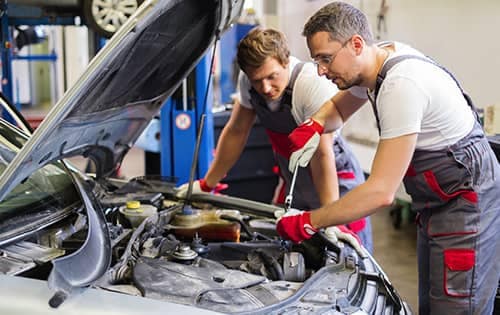 Vehicle Recall FAQ
WHAT IS A SAFETY RECALL AND WHEN IS IT NECESSARY?
A safety recall happens when the manufacturer or the National Highway Transportation Safety Administration (NHTSA) determines that part of a vehicle is defective and the defect can affect the vehicle's safety. Generally, a safety recall will be issued for specific vehicle models or specific parts that are common among many different vehicles. When this happens, the manufacturer notifies its authorized dealers and the owners who have registered the vehicle so the owner can take the vehicle to an authorized dealer for repair.
WHAT DOES A SAFETY RECALL MEAN TO ME?
If your vehicle or part of its equipment is subject to a safety recall, it means the manufacturer or NHTSA has decided that a possible defect in your vehicle is a concern, and they want to make sure it never causes a safety issue. You can learn more about safety recalls by visiting Ford's recall page.
HOW DO I FIND OUT IF THE VEHICLE I AM INTERESTED IN BUYING IS SUBJECT TO A SAFETY RECALL?
Simply copy the VIN of the vehicle you are interested in and look it up using Ford's recall tool.